Basic Info
Edit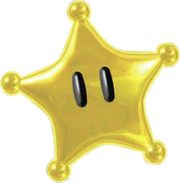 The Grand Star is only obtainable by collecting an Invincibility Star while using another Invinciblity Star , by it's totally worth it. When you use it all of the other racers spin out for double the time, then you become invincible for double the time.
It is the Grand Star from Super Mario Galaxy
Statistics
Edit
There is a 50% chancce that you'll get it. If you have a grand star while driving an Alacarzoom, you'll become triple invincible, which makes any players hit by you spin out for 20 seconds.